UNBRIDLED
Luxury Super Yacht for Charter
Cruising regions
The luxury super yacht UNBRIDLED offers accommodation for 12 guests in 5 cabins consisting of a master stateroom located on the main deck with a king size bed and bathroom facilities including a shower and lavatory, 2 VIP staterooms with a king size bed and bathroom facilities including a shower and lavatory. Further guest accommodation is also available in another 2 cabins.
UNBRIDLED also accommodates up to 13 crew on-board to ensure you have a relaxed luxurious charter experience and all of your needs are catered for while on board.
The specifications on board the beautifully built 191 ft / 58.2 m Trinity Yachts launched in 2015 and later refit in 2015 include air conditioning, stabilisers for a smooth ride by counteracting roll caused by waves or wind as well as an extensive list of amenities and toys.
Whether you should choose to charter in the West Mediterranean or the East Mediterranean the luxury super yacht UNBRIDLED and her crew of 13 will be sure to satisfy all of your needs and make sure you enjoy your experience.
Elmarwas born and raised in a small town in Namibia and after high school herelocated to South Africa to study a Bachelor Degree in Computer Science. Atthe age of 26 Elmar decided to trade office life for a more adventurous career.Sixteen years later Elmar is now in his fourth year in command of Unbridled. Needlessto say, he holds a wealth of experience combined with his Masters 3000GTLicence. Throughout Elmar's career he has sailed thousands of nauticalmiles, cruising areas such as the Mediterranean, Caribbean, South Pacific,Maldives, Thailand, Japan, Scandinavia, Iceland, Greenland, the USA and CentralAmerica. Elmar could almost be mistaken for part of the furniture onUnbridled as he joined the boat during her build, overseeing the yachtscompletion before heading on her maiden voyage. Elmar has been sailing onUnbridled ever since and he is a very proud Captain of such a beautiful boatwith it's lavish finishings. Withan abundance of both private and charter experience, combined with a carefullyselected team that are professional and efficient, Elmar aims to give theguests of Unbridled an experience of a lifetime. In overseeing all departments,Elmar and his team will ensure that each guest receives luxurious pampering bythe interior team, fine dining and indulgence by 5-star chefs and endlessamounts of recreational water activities in the sun, provided by an energeticdeck team. Together with his crew, Elmar looks forward to welcoming you andyour guests on board M/Y Unbridled with the aim to make your stay a safe andmemorable journey
Nathan Smith
Chief Engineer
Nathan grew up in Collingwood, Ontario, in Canada. Being a city well known for its sporting culture, Nathan spent his summers on the Great Lakes, waterskiing and wakeboarding, and his winters snowboarding in the mountains. After high school,Nathan completed a three-year intensive marine engineering course at Georgian College in Ontario. This was followed by eight years as a marine engineer in the merchant shipping industry, working aboard 700ft steam and motor ships built in the 60's and 70's. It was during a vacation in Cinque Terre, Italy,that Nathan discovered the yachting industry. It has been six years since he made the switch from merchant shipping. Nathan has held the Chief Engineer position on vessels up to 60 meters. After yachting, Nathan would like to start a business repairing marine engines. Until then, he looks forward to serving on Unbridled for many years to come. Nathan takes great pride in overseeing the Engineering department and ensuring the operations and mechanics of Unbridled are serviced and running to pristine standards.
Rolandas Alutis
2nd Engineer
Rolandas was born in Rietavas, Lithuania. After completing a Masters degree in technical fleet maintenance at the Klaipeda University in Lithuania, he opted to go into the merchant shipping industry. It was during this time that a friend of his needed an engineer on the private yacht he was employed on, so Roland as decided to give it a go. The first two years of his yachting career, before Unbridled, has been spent on a 122m new build. Rolandas's interests include basketball, fishing and travel, listing Brazil as his favourite destination. Roland as looks forward to being apart of the engineering team on Unbridled, ensuring all systems and mechanics on board are maintained to the highest standards.
Alex was raised in Christchurch, New Zealand. His love for the ocean began at a young age, fostered by weekend sailing adventures off the coast of the South Island with his Father. After completing a degree in Finance and Information Systems, Alex worked as a Property Finance Analyst where he developed his fevor for property investment, before the call of the seven seas lured him into the world of yachting. Alex has a dedication to learning and education, which recently culminated in him obtaining his Chief Mate 3000 ton license from the MCA. Some hobbies include Mountain Biking, Hiking and Personal Fitness and Nutrition. He also holds an advanced certification in Rock Climbing, and describes himself as an adventure seeker. Alex is also a keen diver and has been lucky enough to indulge this passion the globe over. With his expansive interest in the outdoors, you can be assured there will never be a dull moment. An extensive charter career has given Alex the right skills, knowledge and understanding to ensure you are able to enjoy all the luxury, excitement and relaxation Unbridled has to offer.
Tom grew up in a small coastal town in the South Western United Kingdom. Having a long line of family members in the navy, he always knew he would have a career at sea. After school, Tom completed a diploma in marine construction, before moving to Newcastle, joining a company specializing in the building of dingies and sailing boats. After several years, Tom decided to join the yachting industry,spending his first four years on a 110m Lurssen motor yacht. Tom holds his OOW3000gt license, and hopes to continue working towards his Master ticketsomeday. Being a keen outdoorsman, Tom lists his most unique travel experiences as hiking the Inca trail and spending a week in the Amazon Rainforest.
Andrew originates from England and was lucky enough to be brought into a family of sailors. His childhood was spent on the water either sailing, wake-boarding or kite-surfing and his highlight during his high-school years was running the Swansea Kite surf club in Wales for some time. His aim is to develop these skills further and become a Kite surf instructor in the near future. His passion for the ocean was cemented throughout his University degree in Marine Biology and a career on the water was destined to be. It was Andrews' sense of adventure and excitement that led him to the super yacht industry and with over 18 months experience now, he has already cruised a vast part of the Mediterranean and an Atlantic crossing to Florida. Andrew has an extremely positive outlook on life with an energetic and enthusiastic nature. He enjoys any challenge that is thrown his way and is a master at setting up the Beach BBQ for guests' enjoyment. His vibrant character, confidence on the water and all-round awareness of the Marine environment will ensure your time on Unbridled is enjoyable, safe and a holiday to remember.
Fred was born in London,England, but relocated with his family at the tender age of three to Cape Town,South Africa. Growing up near the ocean and having a sporting talent from ayoung age, Fred went on to represent his high school in various sports includingtennis, rugby and swimming. Fred remains fitness orientated by being a keenrunner and paddle boarder. Fred's tertiary education includes a degree insocial media and advertising, as well as a certificate in mathematics tutoring.Working as a social media strategist in Cape Town, it wasn't until a familyvacation on a little sail boat that his dreams of becoming a seafarer weresolidified. After crossing to the UnitedStates from South Africa in May 2014 on a catamaran, Fred managed to accumulatemore than 2000 nautical miles under his belt. Fred has been learning the ropeson various yachts around South Florida before joining Unbridled. With anenergetic, young spirit, determination to succeed and a keen will to please;Fred is sure to enhance every guest's outdoor experience on Unbridle
Micail Swindells
Head Chef
Micail was born in Bath,England. At the age of five, his parents moved to Jamaica, where he spent his early childhood, before returning to Bath to complete his schooling. Micail began his culinary training at the age of sixteen by starting catering college straight after finishing school. Having completed his classical training and gaining his National Vocational Qualifications he quickly moved straight into the industry at a Two Rosette classical French bistro. After two year's honing his skills it was Micail's passion & drive for the latest flavors, creations, styles& techniques that took him to London, where he worked in some of the finest Michelin star restaurants such as Texture, Smith of Smithfield's and Orrery,under some of the most innovative chefs in the UK. By the age of twenty-three Micail's repertoire & experience allowed him to progress to Head Chef at the busy, high-class city brasserie 'Devonshire Terrace'. Constantly wanting to improve & develop, Micail would often venture into various restaurants working short term for chefs such a Gordon Ramsey, gaining valuable experience& inspiration. Within moments of meeting Micail it's clear food is his passion. Adaptable to any specialre quirements, dietary or personal tastes, Micail's presentation will have you excited before you lift your fork. In addition, his combination of the freshest produce & flavors will leave even the most discerning palate highly satisfied.
Neil had a traditional South African upbringing, having originally grown up on his parents' farm near Durban, closeto the beach. He spent the majority of his childhood exploring the outdoorswith his horses or alternatively in the water, training to be the provincial representativeswimmer that he became to be at age 16. After attending the top AgriculturalCollege in South Africa, Neil then went on to study at one of the most eliteChef Schools 'Christina Martin Food and Wine' which he thoroughly enjoyed. Foodis truly Neil's passion and work for him is love. As Neil's brothers were already in the yachting industry, it was only natural that Neil should followtheir footsteps and has since spent the past 5 years working on a number ofhigh profile sail and motor yachts in both the Mediterranean and the Caribbean.Over this time, Neil has gained fantastic experience working with quality localproduce in every new location and his variety of cooking styles pay tribute to his global experience. Neil is more than happy to cater for any special dietary requirements and looks forward to tempting your taste buds with nutritional and appetizing flavor
Amber Briant
Chief Stewardess
Born in the beautiful seaside town of Port Alfred in South Africa, Amber grew up on the coast, except for her University years, which she spent in the inland city of Bloemfontein,completing a Bachelor of Arts degree in Marketing Communications. After completing her studies, she went on to work as a journalist and print media designer for 5 years, before joining a local radio station as a talk show presenter. After a long overseas experience in Thailand and India, the allure of travel and the ocean led her to explore yachting as a career instead.Amber is happiest getting lost in foreign markets, soaking up foreign cultures and appreciating fine cuisine from around the globe. Beginning on an expedition vessel on the West Coast of the USA in 2008, Amber has gone on to cruise many parts of the world, and looks forward to continuing to visit new and exciting destinations. Amber has won many accolades and awards within the luxury yacht industry for her innovative and elegant table setting creations. Passionate about creating and presenting beautiful interior spaces and dedicated to the art of service, she strives to create a unique once in a lifetime experience for every guest.
Sarah- Jane Sheard
Stewardess
Sarah was born and raised in Cape Town, South Africa. After high school, she completed a degree in Commerce and Marketing, and later, a Post Graduate degree in Enterprise Management. Having a desire to travel and work abroad, Sarah did a ski season in Vail Colorado, followed by a three month marketing internship in Hong Kong. More recently, Sarah taught English as a foreign language in HoChi Minh city, Vietnam. Having a brother in the yachting industry for several years, Sarah was finally tempted enough to give it a try herself. Sarah considers herself an active, outgoing person, with a love for watersports and guest interaction. As a newcomer to the life at sea, Sarah looks forward to transferring her skills into creating a truly unique and beautiful experience for guests aboard Unbridled. Guests can rest assured Sarah will thrive on catering to their every need.
Born and raised on a small farm in New South Wales, Australia, Louise grew up with two older siblings, spending most of her time outdoors, whether it was swimming in the farm dam, or fishing with her father. After attending high school in Armidale, Australia, Louise went on to graduate from University with a degree in Sport Management. Having lived in London for a year working in the Hospitality industry, Louise decided to combine her love for travel with her service experience, and joined the world of yachting. During the past year,Louise has worked hard to improve her skill set, being employed on a new build project from the shipyard, through its maiden season, and feels she has adedication to pleasing guests and delivering five star quality service, making her an asset to the interior team on Unbridled.
Engine

2x 2000hp Caterpillar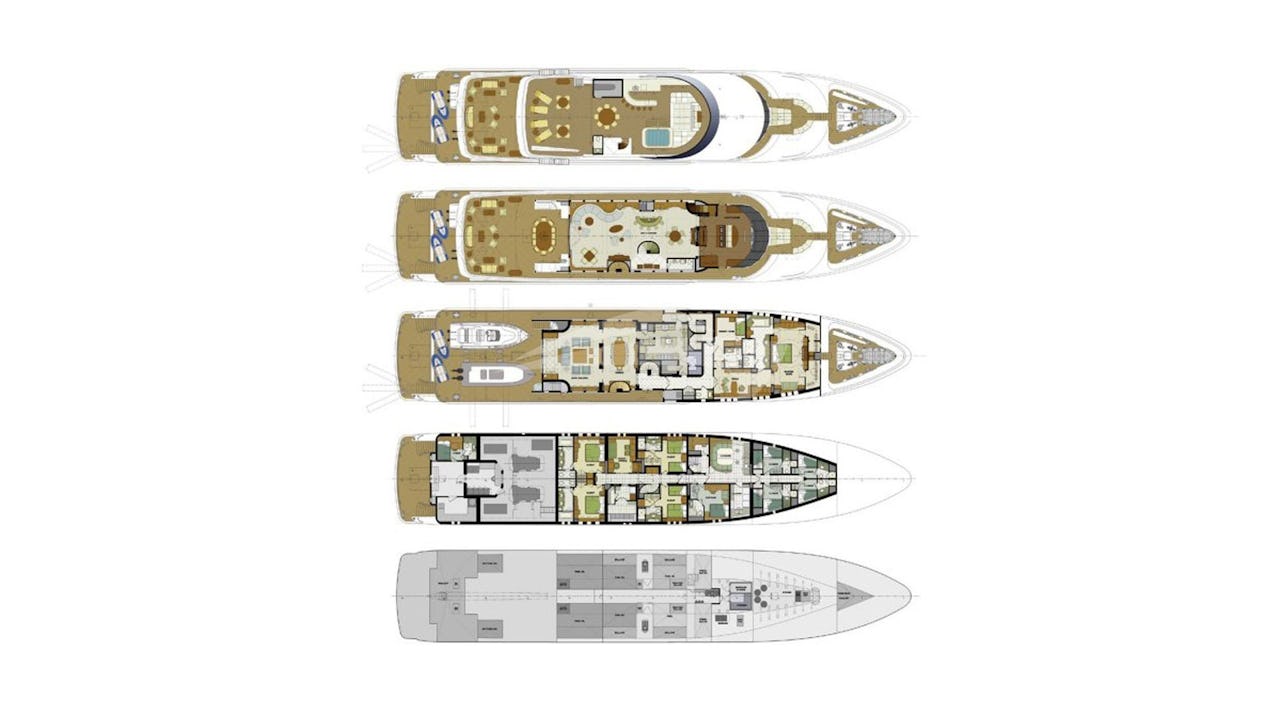 Yachts in West Mediterranean for Charter
Yachts in East Mediterranean for Charter